Are you ready to start a blog?
You were born with the gift of gab, possess words of wisdom, and have tons of information that you want to share. The problem is you don't know how to start a blog.
There is this foreign language that many are speaking C-Panel, databases, and FTP?
A language that has many of my friends, colleagues, and blog wanna be's doubting they can start a blog.  In return, they simply give up or hold their information in hopes that it will get easier.
What if I told you that I am not the smartest chick in the world?
It's true I am not the smartest chick in the world and when it comes to computers I am certainly no computer geek.  When my coach told me that I can setup a blog in 30 minutes or less I thought he was crazy.  I am pretty certain as you are reading this blog you are asking, "Are you serious"?
Yes, I am serious.  
How do you begin?
Right where you are without perfection.  If your goal or dream is to share your love of writing and helping people, I have discovered that blogging is one of the best daily grinds in the world.  It won't take your life savings to start a blogging business.  All you need is time.  Are you getting excited, because you don't have to join Best Buy's Geek Squad to start your blog?
What's the easiest way to start a blog if you aren't a computer geek?
I love today's technology, it makes things flow easily.
In this post, I will lay out a step-by-step process of how to start a blog.  Remember, that blogs don't require tons of money, but it does require a commitment of your time.  There is a lot of information I will provide you, I encourage you to use EVERNOTE  an app that allows you to simplify everything:  from taking notes and clipping your favorite articles/blogs to creating a brainstorming ideas for your blog. I encourage you to clip this blog post and come back to it again and again.
Why do you want to blog?
I have a love for helping and connecting people to money, happiness, and love.  My ultimate blogging goal is to reach more people quicker.   Do you want to make money or is writing a passion? Regardless of your reason for blogging if you want to blog for money or it's your passion you will need a self-hosted WordPress.  Don't fret I will let you know what self-hosted means.
What's self-hosted?
Here is an example of a free website platform www.blogspot.com.  Using a platform like blogspot.com simply means you don't have control over your blog. A self-hosted website means you own it.  You control your website and it's ability to earn money is limitless.
Basically, you set the rules on your website.  If money is what you are seeking self-hosting is the way to go.  There is an upfront cost of starting a blog $15-$20 bucks to purchase your domain (the name of your blog) and then about $2.95 -5.95/month to "host" your site.
First things first…..
Who is your target audience?  What do you want to write about?
What do you love to talk about?  What do your friends tell you that should write about because you just won't shut up?  What can you do that better than anyone else and claim success?  There are tons of blogging topics.  The most authentic blogs are those that heartfelt, relatable, and your story that will help solve the problems of others.  Think of a topic that will be easy to talk about and the ability to monetize by helping others.
It's Time to Select Your Name
Take out your favorite brainstorming notebook or paper.
Write down all the words you can think of that describes your blog.  The main niches are lifestyle, fitness, food, money, travel, and parenting.
I knew I wanted to teach people about communication, public speaking, and business networking so my list had words like connections, super-friend power, charisma, small talk, conversation starters, make friends, talk to anyone, business, elevator pitches, personal marketing plan, networking spreadsheet, email, correspondences, follow-up, post networking, dress for success, skills, money, and relationship building.   It doesn't matter how many words you come up with list them all.  Once you list the topics, begin combining them to form a blog name, "small talk starters, business talk, connections make friends".  These are examples of names if necessary take pages to discover your name.
Allow me to give you a little relief.
Creating your personal branding website is simple to install.  I have created an easy tutorial to help set up your blog/website with WordPress the right way.
WordPress is the one of the world's largest blogging platform.  Don't fret it is also a way to build a website.  In this post, I am going to show you how easy it can be to get your blog or website up and running.
The first step to building your WordPress site is to determine who will host your website.  I know you enjoy freedom, therefore having a self-hosted WordPress site gives you total control over how you manage your site.
It's important you select the right web host before installing the WordPress software. Think of it as selecting the best bank to secure your money.  The server is where your site/blog will be stored.  Just like any financial institution you have many choices, but in this case, BlueHost is the best choice to me for hosting your website, especially WordPress.
There are many reasons why BlueHost is so highly recommended, but here are a few:
Their service, reliability, and usability.
Bluehost has worked hard to make their Control Panel easier to use.
They also offer courteous and professional 24-hour in-house technical support for your hosting account 7 days of the week all year long. That means when you call in at 1 in the morning on a Thursday, you are calling to the same place that your hosting account is at and someone there will be able to help you.
For $5.95 a month you can host unlimited websites, email accounts, and domains; all on one account.
BlueHost uses custom built servers, this provides the most stable and reliable hosting environment.
Also, to help make sure that there is little to no risk for you, BlueHost has a 30-day money back guarantee. So, if their hosting is not what you need or want, you can cancel at any time.
Before we can get started on the tutorial you need to sign up for BlueHost.
As an added bonus to you, if you click the link above I will not only provide you with an easy tutorial, but I will  I will take the load off your shoulders and install WordPress for you at no additional charge and install secret weblinks to make Google love you.  I can make all this happen within 48 hours.
What's the catch Sunny?
There is no catch this program offer is sponsored by BlueHost the official website host. Why would I offer to set up your WordPress site for FREE.  It normally cost $100.00 to have someone install WordPress for you, but BlueHost is paying me to make your life easier by installing WordPress blogs/sites and plug-ins.  All you have to do is order a BlueHost plan using the link below, then email me your domain name and I will get started developing your website.   Not only that, I will also install for free the following plugins to get your blog started on the right foot:
Yoast SEO
Google Sitemap
W3 Total Cache
WordPress Stats
Akismet
Maybe you have gained the confidence necessary to install WordPress yourself. Congratulations on that decision, go over to BlueHost to grab your hosting deal. (Highly recommended).
As promised, here is your simple tutorial to get you on your way.
Installing WordPress
This may seem like the most complicated step, but BlueHost has worked hard to make this one of the easiest things for you to do. They use the new MOJO Marketplace for installing WordPress (and other applications).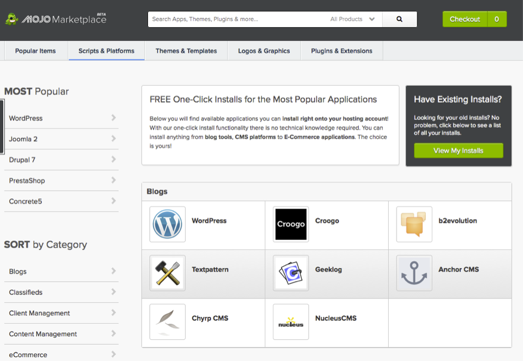 In your cPanel, scroll to the section titled "MOJO Marketplace" and choose the icon One-Click Installs.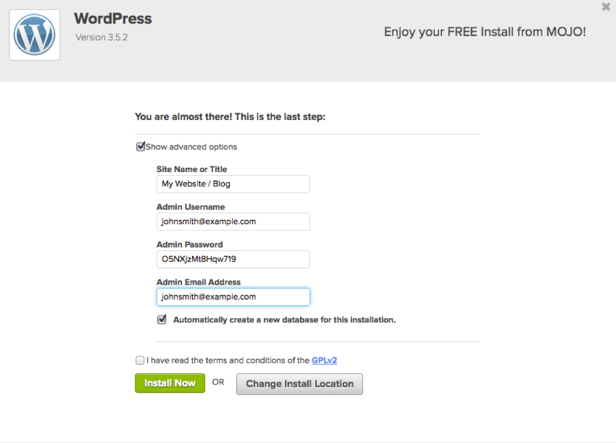 You will now be on a page inside MOJO Marketplace called Scripts and Platforms. The blog section is at the very top, so all you have to do here is click on the WordPress icon.
This will open the installation window. Click on Start a brand new installation. This is going to start the WordPress installation process, which has a few easy steps: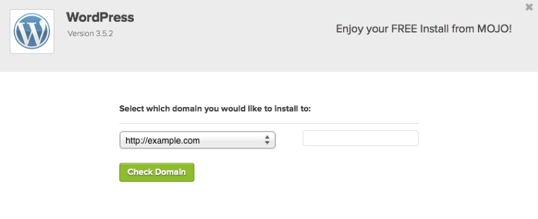 Step 1: Choose where you want to install WordPress. This can be any domain on your account, or a subdomain or a folder for one of your domains.
Next click Check Domain, which will make sure the domain is assigned and pointing to your account. You may get a warning that you are overwriting files, but as long as you don't have another website built yet, you can check the box and continue. This is mostly to make sure that you really want to install in that location. If you do have other sites built, you will want to make sure you're not overwriting something important.
Step 2: Show Advanced Options.
This section allows you to set up your own username and password for your WordPress install. It is recommended to use a different username than 'Admin' and a very strong password. Make sure that the "Automatically Create a new database for this installation" box is checked, unless you have a database that you have already setup and want to use.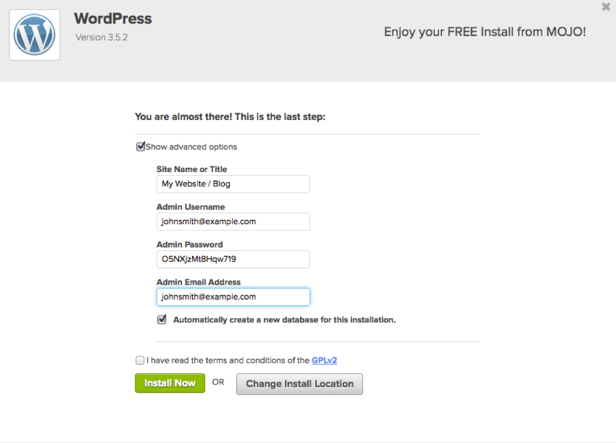 Step 3: Check the box saying that you have read the terms and conditions. Then click Install Now.
You will now see the progress page, which will show you how far along the installation is. Once WordPress is fully installed, it will provide you with your Site URL, the admin login URL, your username, and password. You will get a copy of this information, except your password, in your email as well. Make sure you keep it in a safe place.

Now you can log into your WordPress site, by going to the admin login URL. Enter your username and password, then click Log In. You will now be looking at the WordPress Dashboard. This is where you will control everything to do with your WordPress site, such as creating pages, writing posts, and changing the appearance.
Don't allow this tutorial to overwhelm you.  The great thing is I already have your best interest in mind.  Go ahead grab your hosting spot and allow me to do the rest.